Have you been wondering how to walk, run & jog for a while, but your knees aren't giving you that support? Surely it is something that bothers anyone as you can't work out with maximum effort. But, it's time to keep this worry aside.
Because nowadays there are treadmills that are perfect for people with bad knees that come with a lot of comforts. With one of these, you won't feel the extra pressure on your knees, letting it recover while you also don't miss out on your workouts.
In the market, you will see plenty of machines that claim they are the best treadmill for bad knees, but most of them are just empty words. 
In this article, I have listed some outstanding knee-friendly treadmills that have superb comfort while exercising. Give them a look…
 Best Treadmill for Bad Knees: Top 10 Treadmill Reviews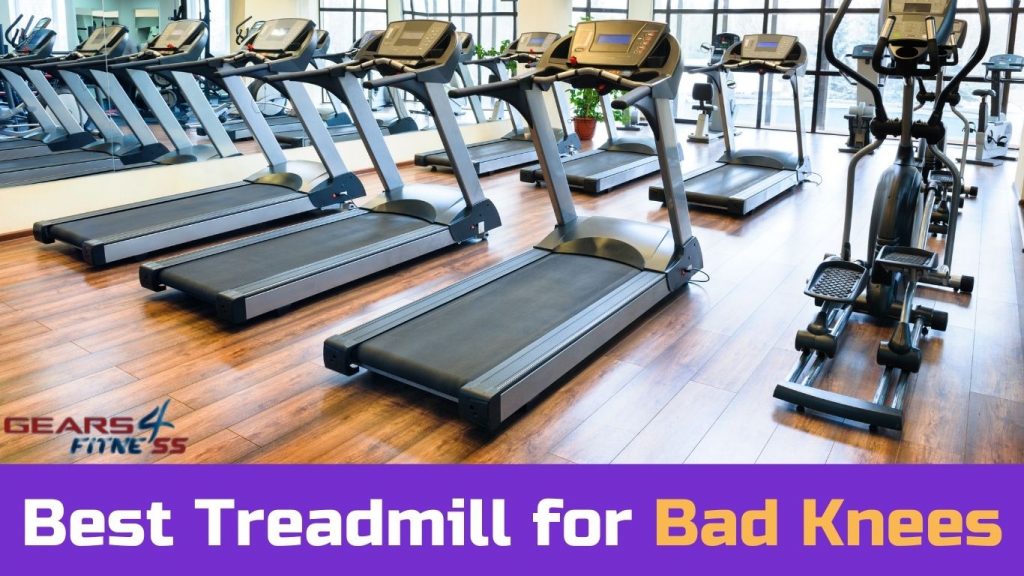 Life is hard if you have bad knees, especially when you're old. It even makes walking a challenging feat, let alone exercising. This is why you need to pick a good treadmill if you've got bad knees.
Now you don't have to worry because I have already researched treadmills that will be mind-bogglingly friendly and less impactful for your knees and rest of the joints.
I've chosen a total of 10 treadmills that I think from the crowd of hundreds which I believe can qualify as the best treadmill for bad knees.
So stay tuned! And see what those treadmills offer you…
1. NordicTrack T 6.5 Si 
A bad knee is always in need of a treadmill that reduces the impact to a greater extent and NordicTrack T 6.5 Si does that for you on the point. The FlexSelect cushioning is a matchless feature for comfortable & softer running.
What makes it unique from many other treadmills is the 10″ HD interactive touchscreen display. Digital 12% incline is another remarkable feature of this first-class treadmill.
Plus, the 20″ × 60″ tread belt is highly suitable for taller users. It was made to save a lot of space and the EasyLift feature helps to fold and store.
In addition to that, the alloy frame is pretty sturdy and can carry up to 300 lbs. And, the powerful motor provides the tread belt with a max 12 mph speed which is superb. Moreover, the assembling of this machine is easy and it remains pretty stable during workouts. The handrail of this treadmill is short and won't provide too much support.
Furthermore, the tread belt is a multi-ply belt with an ample amount of traction for safe running. Though this treadmill is quite heavy, the transportation wheels make the job much easier.
Being said that, it comes with a plethora of convenient features like a water bottle holder, multi-speed fan, Bluetooth, and wireless connectivity. Finally, the 3.5 CHP motor and 50+ built-in program make it an unbeatable treadmill in this price range.
Pros
FlexSelect Cushioning reduces stress on body joints
3.5 CHP motor, 12% incline
The price range is reasonable
Cooling fan, Bluetooth & water bottle holder
50+ built-in program, high weight capacity & large tread belt
Cons
The handrail is a bit shorter for users comfort
2. Bowflex Tread Climber TC20
Bowflex Tread Climber TC20 is a low-impact cardio machine that is a combo of the treadmill, stair climber, and elliptical machine. 
Plus, You will be able to burn a high amount of calories while protecting your bad knees from impact as it does not have any landing system. Two treadles of this machine have enough length and smooth functioning. 
Also, the powerful motor lets you achieve a 4.5 mph speed. One extra pain you have to deal with is to lubricate the treadles frequently.
Moreover, its built quality is remarkable and allows users up to 300 lbs to perform smoothly. Though it has no folding system, it does have high-quality transport wheels for easy moving.
This durable machine has an LCD backlit display to read the workout time, treadle belt speed, distance coverage, calories burned, and heart rate. Unfortunately, the treadle height is a bit higher compared to the normal treadmill deck.
To keep your workout tiredness at ease, handrails on both sides and a water bottle holder are available. As an additional feature, Bluetooth connectivity is also present.
Bearing in mind both pros and cons of Bowflex Tread Climber TC20 it's a great buy for your hard-earned bucks.
Pros
Treadles paddling is extremely safer for knees
High user weight & durable
Handrails, water bottle holder, and Bluetooth connection
Perfect speed for walking session
Robust build & LCD display
Cons
Treadle belt require regular lubrication
Height of treadle is more than average treadmill
3. Sunny Health SF-T7957 Treadmill
Sunny Health SF-T7957 Treadmill would be a perfectly running machine for people with bad knee issues. Bad knees need less amount of impact and this amazing treadmill does that with its shock absorption.
Coupled with that, the low profile deck makes it another reason for a bad knee-friendly treadmill. The build quality of the steel alloy frame is impressive and carrying up to 295 lb users is just a piece of cake for this treadmill.
The most eye-catching and functional feature is the multi-grip extensive handrails that are on the user's front and both right-left sides. Makes it extremely supportive for knee injury runners or senior people.
Plus, the 2.5 HP motor provides a 0.6- 5 mph range which is suitable for an enjoyable walking and jogging session. This treadmill doesn't have any fancy console, rather a very simple one for easy use. You will be able to see data like total duration, distance and calorie burned. Sadly the heart rate doesn't show in the console. 
Moreover, the assembling part is a breeze for the user too. Also, the quick stop clip and the non-slippy running surface simply increase your safety. 
Furthermore, the easy folding lets you store the treadmill without much pain, and the transport wheels make moving around much smoother. 
Overall, Sunny Health SF- T7857 is a superb treadmill for runners with bad knees at this price range.
Pros
Sturdy build with 295 lbs runner weight capacity
Reasonable price with easy folding
Extended handrails & low profile deck
Shock absorbers reduce stress on knees
Cons
Heart rate monitoring is missing
4. ProForm Performance 300i Treadmill
ProForm Performance 300i treadmill does a lot of mercy to the user's bad knee. Its ProShox shock-absorbing technology can reduce 20% of the running impact which is undoubtedly brilliant.
Plus, the 2.0 CHP silent and durable motor help you to experience a 10 mph speed running session.
In addition to that, the 10% digital incline of the ProForm 300i adds great value to your regular workout. Even the assembling of this running machine will be a breeze. Though the tread belt is heavy-duty and flexible, unfortunately, it is not large enough for taller users.
Moreover, you will be amazed at the solidly built frame that welcomes runners up to 300 lbs. The built-in 16 workout program will bring more variation and increase fitness levels.
Furthermore, the 6″ LCD will show all running data to evaluate your fitness improvement. A space-saving folding option is always a great advantage and you get this in this treadmill at a much cheaper price.
Moreover, for users' convenience, it has a low-height deck with 7″, a tablet holder, access to iFit, Bluetooth, and audio speakers.
As a whole, purchasing ProForm 300i is a profitable deal in terms of money and a low-impact machine which you should grab as soon as possible.
Pros:
Premium level ProShox tech for low impact on knees
Cheap buying price with a powerful motor
Robust frame with 300 lbs user weight
Folding option,10% incline & low height deck
Cons:
Not adequate running deck for tall user
5. Lifespan Fitness 3000i Treadmill
Lifespan Fitness 3000i treadmill has tons of bells and whistles for the users. This treadmill would be extremely beneficial for you if you have bad knees. As it's jacked with 8 independent shock absorbers you will feel less impact on your knees, ankles, and spine.
Even for your fitness goal Lifespan Fitness 3000i comes with 38 built-in programs. Along with that, 15 level incline and 12 mph top speed makes it an ultra running machine. If you are currently suffering from bad knees, you can keep the speed low for walking and mild jogging. Once recovered you can hit the top speed smoothly.
Plus, the fantastic 2.75 HP quiet motor will support it for a long time. The tread belt of the treadmill is not appropriate for taller users which is a major downside.
To ease the folding and storing option, it offers you an EZfold hydraulic assisted design. Bluetooth speakers and a USB charger are added for your convenience.
Moreover, the high-quality sturdy frame supports runners up to 350 lbs. In addition to that, the pulse sensor, speed, and incline button on the handgrip help a lot. Though the handrails support a bit longer would have been more supportive to cut stress on knees.
Furthermore, this treadmill has a patented Intelli -Guard which will automatically stop the belt just 20 seconds after your last step. Not only that, but this patented feature also counts your every step.
In a nutshell Lifespan, Fitness 3000i is a good buy that would treat your knees with less amount of stride impact.
Pros
8 shock absorbers protect your bad knees
38 built-in program, 350 lb user weight, and 2.75 HP quiet motor
EzFold folding system, USB charger, and Bluetooth speaker
Sturdy frame & reasonable price
Intelli- guard feature for safety
Cons
Tread belt size won't allow taller guys
Handrails are not long enough
6. Sole F80 Treadmill
Unlike many other cheap treadmills, Sole F80 will provide an appropriate response for your bad knee. This outstanding treadmill has Cushion Flex Whisper Deck that reduces the impact on your joints up to 40%.
Who doesn't want a folding treadmill for a home gym, Right? The Easy Assist folding design just leaves a lot of space in your room which is great. 
The control system of the Sole F80 isn't complex and quite handy. The blue screened LCD will show you info like heart rate, running pace, calorie burned, etc.
Plus, the extremely durable and solid-built treadmill frame supports runners up to 375 lbs. No compromise in the 20″ × 60″ running surface let the taller user make most of it.
Adding to that, the high torque 3.5 CHP motor will ensure long service. You can easily go for 12 mph when you will be fully free from your injured knee. 15% incline feature helps to break the monotonous vibe of a flat surface.
In addition to that, the larger 2.75-inch rollers help to maintain the long life of the tread belt. And the 4 layers 2 ply tread belt can easily beat any other tread belt available in the market.
For many people, the price of Sole F80 may be pretty high. But I would highly recommend you to buy this treadmill as it's the top of the cream for bad knees in the treadmill world.
Pros
40% less impact due to the Cushion Flex Whisper Deck
Large running deck, durable tread belt, and 3.5 CHP powerful motor
LCD screen for all relevant data & easy to use the quick button
15% incline, Easy Folding design
High user weight with 12 mph top speed
Cons
The buying price of the treadmill is very high
7. Horizon Fitness T202 Treadmill
Horizon Fitness T202 treadmill is a quiet and durable treadmill that is capable of providing an ample amount of protection with PerfectFLEX Plus cushioning. You will find it ultra-friendly for your bad knee during walking and jogging.
An uncompromised 2.5 HP motor ensure smooth operation and gives you the pleasure to enjoy a comfortable calorie-burning session. The handrails of the treadmill add more safety for you. Whenever you feel a bit tired you can walk by holding on to it thus reducing extra pressure on your knees.
In addition to that, the 12% incline not only adds fun but also allows the user to strengthen their knees gradually.
Plus, the FeatherLIGHT folding lift options make it easy to fold and store. The 20″ × 55″ running deck of the treadmill is suitable for most people. One downside is the less thick 1.6 mm treadmill which is not long-lasting and wears out faster.
Moreover, the 325 lbs runner weight capacity and 12 mph are excellent for users with heavy weight who want to improve their fitness. To keep yourself updated with the running data the LED display is attached. You can also maximize your fitness level by using 12 built-in workout programs. 
Few treadmills will offer such bells and whistles at this reasonable price. Buying this would be a great addition to your indoor gym plus a great gift for your bad knees.
Pros
PerfectFLEX Plus cushion assure less impact on knees
Reasonable price, 12% incline feature & 12 built-in program
Excellent weight capacity, durable motor
Large running deck with easy lifting folding system
Cons
The tread belt is not durable and thin
8. Horizon Fitness T101 Treadmill
Horizon Fitness T101 treadmill has a variable response cushioning deck which made it become one of the top-notch demandable treadmills for people with bad knees. The built-in shock absorption will not only decrease the stride shock but also help you to gain stronger with time.
Plus, you get an incline of 10% to intensify your workout and beat the boredom of flat surface walking. The running deck of the treadmill is a bit smaller than any average treadmill is a major lacking. Taller guys won't be able to use it while heavy-weight users up to 300 lbs can easily do walking and running.
The feather-light lift with 2 hydraulic shocks does the folding and unfolding like cutting a buttered piece. As part of the user's safety, the handrails help a lot when you feel like out of gas.
Moreover, Bluetooth connectivity, a cooling fan, and an interactive console are added for your convenience. The pulse sensor of the handgrip sends heart rate to the 5″ LCD display.
Furthermore, the 30 built-in programs will help you to hit different goals with 4 workout modes.
Though people with bad knees don't really need high speed as soon the recovery stage is over you can run at a top speed of 10 mph supported by a quiet and powerful 2.25 CHP motor.
Ignoring the short deck size, most of the features are great and make it a wonderful treadmill for beginners and people with bad knees. And about the price, I would say it's a big fish at a lower price. 
Pros
Variable Response Cushioning deck significantly reduce stress on knees
Butter smooth folding & unfolding
30 built-in program, 10% incline with a top speed of 10 mph
Handrails, cooling fan, and extreme user weight capacity
Cons
Running deck is a big no for taller people
9. The Exerpeutic TF900 Treadmill
The Exerpeutic TF900 is a lightweight treadmill would be a good choice for people with bad knees, especially those who are not in a position to run. This machine is suitable for walking and light jogging. 
For user's safety, it has a pretty low-height deck, making it effortless for you to get on & off. Not only that, the 18″ long arm rails on both sides will help you a lot if you feel uneasy even when walking at top speed which ensures your knee safety.
Though it's a lightweight running machine, it does not compromise on its built quality. Guys up to 350 lbs can use it without any problem. Only one drawback is the running deck size which does not allow taller people to use it. 
Plus, the 1.5 HP motor is highly durable and noise-free. You can do a long walk without having a lagging issue. Moreover, you will enjoy the assembling time as it's easy to do. For your convenience pulse sensor and speed, controls are attached to the handrails.
Furthermore, the LCD shows you walking time, calories burned, walking speed, and distance covered. The folding options with quality transportation wheels add more for the user's ease of storing and moving the treadmill.
Finally, the decent price of the Exerpeutic TF900 treadmill makes it an ultra choice with all these functional features.
Pros:
Easy to assemble, folding & move around
Robust build with 350 lbs walker capacity
Durable & silent motor
Handrails for users knee support & LCD console
Cons:
Running deck not friendly for tall users
10. Smooth Fitness 5.25 Treadmill
Smooth Fitness 5.25 treadmill has an outstanding shock absorption feature called swing arm suspension which keeps your joints and knees protected from the running shocks.
Plus, 2″ commercial-grade rollers and the commercial-grade tripe laminated phenolic deck increase the durability of the treadmill. For users' benefits, 6 preset programs come with it.
In addition to that, the large and wide tread belt ensures more safety for you. You will be able to run at a range from 0.5-10 mph backed by a 2.5 HP motor according to your knee condition. Along with that, the handrail is attached which helps you hold it and cut off stress from your knees.
Moreover, the rock-solid frame of Smooth Fitness 5.25 allows people from heavier sections up to 300 lbs. You can also train up to increase the strength of your knees by using the 15% incline.
To make it more user-friendly, it offers a high-quality folding system. And, the interactive LCD display will generate walking speed, total walking distance, calorie burned, duration, and pulse reading.
One negative feature is that it does not include any heart chest strap. However, it's a legendary running machine at such a cheap price.
Pros
Premium grade shock absorption system lower impacts
15% incline & 300 lbs weight capacity
A smooth folding system helps easy to store
Cheaper price with ample amount of running surface
Cons
No heart chest strap is given with it
How Can you Choose The Best Treadmill For Bad Knees? 
We all want to get the best benefits when we buy something, isn't it? But that's not always the case with most of us. As we tend to hurry without noticing the little things and end up having things that are often of no use.
A treadmill is an important thing for your fitness and conditioning of bad knees. So any ignorance would cost you both physically and mentally.
It's mandatory to look for the following features before you go for the purchase:
Running Deck Surface
Can you imagine using a treadmill that doesn't let you run because of its short length? It would be a disaster right?
If you are a tall person don't even dare to buy a treadmill less than 20″ × 60 " size. A narrow & shorter running deck will increase the risk of injury to your knees. Because you have to change the walking pattern which put pressure on your knees. So have a strict check on it.
Incline
The incline feature of a treadmill will help you to burn some extra calories and eventually fat. This brings variation from the boring flat surface walking.
Speed
People who got bad knees really don't need a high speed like 10-12 mph. A minimum of 4-5 mph would do the job. But you want to buy the higher speed one so that after upgrading knee conditions from the strengthening exercise you can run at a higher speed.
Handrails
Though it seems like an obsolete feature once you are about to lose control, hold it to save your knees from getting any extra pressure.
Cushioning
An excellent cushioning of the treadmill will put your knees in relief by cutting off the impact from running strides. Try to buy which offer premium grade cushioning.
Deck Console
An easy-to-use console will help you to track yourself with all the data. Along with that, it offers you a built-in program to use for maximum output.
Folding option
A bigger size treadmill that does not have folding options will consume a sizable amount of your room. Whereas a swift folding option treadmill let it fold and store easily.
Weight Capacity
Treadmills that offer 300+ lbs are best suited. Because mostly they are sturdy and good for long-duration jogging and walking.
Safety Tips For Using A Treadmill For Bad Knees
It's always better to act with proper safety. A safe step will help you from getting an unwanted injury. On the opposite note, unsafe steps might send you to the hospital bed and even under the white light of the operation theater.
Here below I am listing some safety tips which you can follow to keep your bad knees under control.
Get familiar with the control panel and buttons like the emergency stop button.
Keep holding on the side handrails
Try to stay on the center of the treadmill to avoid slipping off
Don't let the speed more than 2-3 mph for the first few weeks
Keep walking intensity low
Maintain proper posture during walking 
Wear the best shock absorbing shoes
Get off the treadmill if your knee hurts too much
How To Protect Your Knees While Running On A Treadmill
It's a common scenario that people who have physical limitations like bad knees try to ignore any form of physical movement. It's their inner fear that drives them to do that which eventually leads to many complex problems. 
If you have a bad knee just relax! Don't let your fear overcome you. For your benefit, there are many treadmill units available that make sure you walk and jog with a significantly less impact on your bad knees.
Let me tell you some points which will help you to use your treadmill in a proper safe manner
You must wear high-quality running shoes that reduce the impact on knees and other joints
Before getting on the treadmill complete 8-10 minutes of warming up session.
Start you walking at the lowest speed with the lowest incline level
Use the handrail whenever you feel extra stress on your knees
Wear knee wear to ensure full safety of your knee
If you follow these while exercising, I'm hopeful your knees will appreciate it.
Frequently Asked Questions
1. Is treadmill good for the bad knee?
It depends on which treadmill you are using. A treadmill that does not have an ample amount of shock-absorbing features will put a lot of stress on your knees for sure. But those which have premium grade shock absorbers won't harm your bad knee.
2. Is running on a treadmill better for your knees?
Compared to running on road surfaces like the asphalt road, cement pavement will create a huge burden on your knees. On the other hand, the multi-layer belt with a shock-absorbing cushioned treadmill will be softer on your knees.
3. Which treadmill is better for knees?
Treadmills that have at least 3% incline and shock-absorbing cushioning technology are excellent for your knees.
4. How can I make my treadmill easier on my knees?
Wearing the proper footwear that has shock-absorbing features, slow walking, shorter stride than a normal stride, and maintaining good posture is the proper way to make your cushioned treadmill easier on your knees.
5. Is walking good for bad knees?
Slow walking is a low-impact exercise that won't put much stress. Rather a slow walk will help to build the strength of the knee area adjacent supportive muscles. 
6. Are Bowflex Treadclimbers any good for knees?
Bowflex Treadclimbers are considered the top-notch treadmills for your knees. Because you don't have to do the feet landing which ensures significantly less impact on your knees.
Conclusion
I know how tough it is to start working out with bad knees. But that's the only way you can slowly and gradually make your knee stronger. Hopefully, the treadmills I've shortlisted will definitely help you in your day-to-day exercises.
The list of the top-grade treadmills has its own advantages. Check and recheck all the features and buy the best one you can afford. In this article, I hope you have found the best treadmill for bad knees that has been tormenting you a lot. Now it's time for you to treat your bad knees with proper care without compromising your physical movements. Hope it Clicks buddy!