Treadmill is one of the most important and must have exercise equipment. However, you can't just go buy a treadmill just because someone said that's good. As you surely know there are various types of treadmills out there, and each one is made considering a specific goal and budget. Not every treadmill is to be used everywhere.
If you want to have a brief idea, treadmills are mostly classified based on three things. Power source, purpose, and design are the things taken into consideration. Electric, foldable, hybrid, desk, etc are a few types of the numerous kinds of treadmills out there.
Based on the basic differences among treadmills, you can determine which kind of treadmill will be the best for you. Stay tuned to know about all the different kinds of treadmills out there.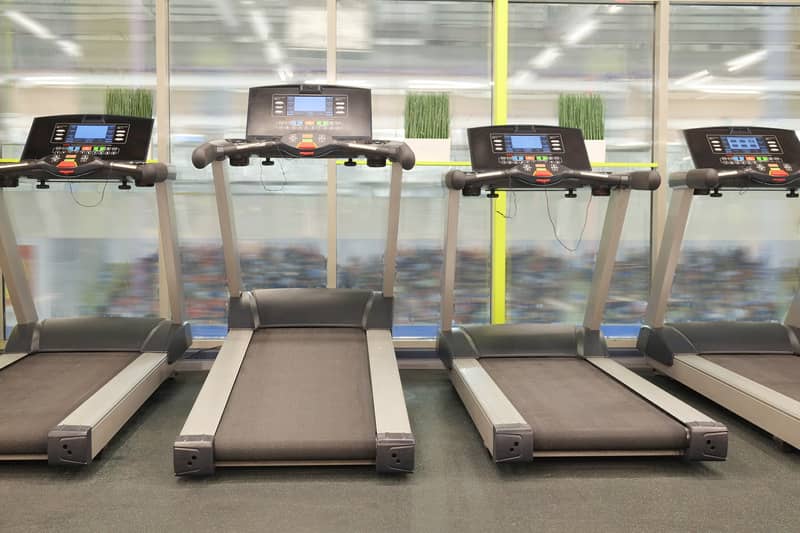 Types of treadmills: based on power source
As we previously discussed, the types of treadmills depend on a few aspects and one of them is the kind of power source. Depending on what's the power source, there are a few types of treadmills. All of them are discussed below so you can figure out which type of tread will suit you more.
1. Manual treadmills/ non – motorized
You have probably guessed from the name that this type of treadmill doesn't come with any motor. So, you need to apply physical force with your leg in order to move the belt of this kind of machine.
In simple words, as you have to create the speed manually with your own force, in this machine you burn a lot of calories but there's a problem. It's not possible to keep on running on this kind of machine for a long period of time.
As a result of the excessive pressure, you might feel pain in joints, hip muscles, hamstring, and feet. This is the reason why many people quit very quickly after starting with a manual treadmill. As they can't run for a longer period of time, they end up burning less calories every time and get more demotivated.
The only silver lining of this kind of treadmill is that this kind of treadmill is very light compared to other kinds. And when it comes to price, this kind is usually the cheapest in the market.
Top 3 Best Manual Treadmills
There are a lot of brands who provide manual treadmills. Among them, the three best treadmills are noted down below so you can determine which one you like the most.
This manual treadmill is one of the biggest and heaviest manual treadmills out there. Running on it is easy compared to other manual treads because the tread belt comes with a shock absorbing system. From overweight to obese, anyone can run on this tread as it can handle up to 400 pounds.
Moreover, there are over five thousand personal workouts available on this machine for you. Overall it's a great manual tread. The only downside is it's very bulky and not easy to move.
This treadmill is very easy to use as it comes with a big LCD fully digital console. You can connect any Bluetooth device to this treadmill and enjoy music or podcasts. And the built-in high-intensity interval training and heart rate monitoring programs will make sure you are burning enough calories.
Even though it's a heavy tread, lucky for you it comes with transport wheels. So moving from one place to another is pretty easy.
For walking and light jogging as well this treadmill is built. The light design makes the treadmill easy to move and it comes with 3 different incline levels. It's a magnetic treadmill with 8 different levels and offers twin flywheels too.
On top of everything, this treadmill is foldable and saves you a lot of space when it's not being used.
2. Electrical/motorized treadmills
This type of treadmill comes with an electric motor pre-installed inside the body, and demands electricity in order to operate. It is usually very heavy in size, but makes running super smooth for you.
The magic is done by the electric motor as it moves the machine's belt automatically at the speed you set from the display, all you need to do is just run accordingly. This way you don't lose your energy on pushing the treadmill to run. The total control of the motor is just under your palm, inside the big screen that comes along with this tread.
From this control panel, you can control the speed of the treadmill and in some cases the incline percentage as well. And you get the opportunity to monitor how many calories you've burned, the distance, time duration, etc. these are the features which you won't find in a manual treadmill.
Though there's no downside in an electrical treadmill, the price might not be budget-friendly but spending a few bucks is worth it when you feel how easy it is to run on a motorized treadmill compared to a manual one.
Top 3 electrical treadmill
Now is the time when everyone is buying electrical treadmills. And there are so many brands selling electrical treadmills with pretty much similar features. So, often it gets a bit confusing for you to choose. That's why I have made the list of the top three electrical treadmills.
Most treadmill users prefer an electrical treadmill these days and Proform Pro 9000 is one of the best electrical treadmills out there. You can stream various training classes as this treadmill comes with a free one-year iFit membership.
On the other hand, it's the cheapest treadmill of the commercial series from NordicTrack. Since it's a commercial treadmill, pretty much all types of training can be performed on it. And many people can use it for a longer period of time. Powerful motor, touchscreen with iFit, and easy foldability, and other qualities make this machine best in the market.
All the parts of this treadmill are high quality and you can fold this treadmill very easily. It has a very large warranty and running on this machine is very easy.
The speed range in this tread is from .5 to 12 MPH and it has an incline up to 15 percent. A big number of standard running programs come with this treadmill when you buy it.
This treadmill lets you directly connect with world-famous trainers as it offers free iFit membership for one year, and not just for you; for your whole family. You will be able to create up to 5 different exercise profiles and have access to everything iFit provides. However, if you don't wanna buy the iFit subscription, you can check my article regarding how to use Proform treadmills without iFit.
On the other hand, this machine is foldable and saves space in your room when you are not using it, and you get a big touchscreen with the machine from where you can control the speed, incline, and everything of this treadmill.
3. Hybrid treadmills
Hybrid treadmills offer a lot of features and are more efficient compared to manual or motorized treadmills. It, first of all, is a treadmill but works as an exercise bike as well. It is designed in such a way, you can just sit on the given seat and pedal using the given pedals, and use it as a bicycle when you are not running.
But for running, a running deck with large enough length and width is present as well. You can also change the frame of this treadmill into stairs and use it to do stair lunges, or maybe pushups or step-ups. You can monitor all the exercises from the screen with the help of the given LCD console. From this panel, you can check other information as well.
Both manual and electrical hybrid treadmills are available in the market. You should pick the electric hybrid treadmill if your goal is to take your fitness to a whole new level.
Top 3 hybrid treadmills
You can do other exercises on hybrid treadmills apart from just running. And this is the reason which attracts a lot of people to buy a hybrid treadmill and indeed it has its benefits. So here's the list of the market-leading hybrid treadmills.
It's one of the finest hybrid treadmills because of the combination of a treadmill, elliptical and stepper in one machine. You get to do all these exercises on the same machine, and track your fitness records.
The brand new MBH Fitness 2 IN 1 HYBRID TREADMILL is MBH Fitness' most revolutionary treadmill design. With a built-in 2-in-1 function that includes climbing and jogging, you can now improve leg muscles and burn up to 450 calories in 15 minutes with only one machine. The treadmill can accommodate you regardless of your fitness level, age, height, or training goal.
It's a bit cheaper version of the TC 200 treadClimber. Bowflex came with this first, and then the TC 200 one.
TC 100 doesn't have Bluetooth connectivity sadly, and no pre-installed programs.
Types of treadmill: Based on usage
Depending on how much the treadmill is going to be used and where, there are various kinds as well. Not every treadmill can handle the same amount of stress. Some are made only for personal use while some are made especially for commercial use. The different kinds of treadmills are explained in detail below.
1. Home treadmills
As the name says, this type of treadmill is for only personal use at home. You and a few members of your family can exercise on it but that's it. It is usually ideal for people who want to buy a home treadmill as they don't really have the time to go to the gym or workout outdoors.
Some even prefer to workout at home, for them a home treadmill is a great option. Now you might be wondering if your house does not have that much space to fit a big treadmill but don't worry. Home treadmills are designed keeping that issue in mind so that it doesn't take up a lot of space. The usual size of a home treadmill is six feet long and three feet wide.
Apart from being compatible, this type of treadmill comes with a long-lasting powerful motor. Which are capable of taking the load of you even if you are overweight or obese. And the newest technologies and features are needless to mention, you will have full access to all the features.
Top 3 Best Treadmills for home
You can use a manual treadmill and an electrical treadmill as your home treadmill. According to your budget and preference, you can get any treadmill from the list of manual or electrical treadmills that I have provided. Apart from those, I would leave three few suggestions.
This is a very good treadmill for light use in your home. It has an ipad holder and comes with workout videos. The machine offers various speed modes and also 0 to 15 percent incline. And on top of everything it has 6 years of warranty on the parts.
Using this treadmill you will get free access to iFit for a month. And train under world-famous trainers staying in your home. Apart from that, it has all the features you can ask for from a home treadmill.
If you are looking for a cheaper yet good quality option, sole F63 can be the perfect home treadmill for you. It has Bluetooth connectivity, different speed settings, and incline facilities.
2. Commercial treadmills
If you are a gym owner, first and foremost what you need for your gym is a treadmill. And not just one treadmill is enough, you need several treadmills for your fitness center. Considering they are going to be used frequently by a lot of people, you need to buy a heavy-duty treadmill.
Lucky for you, the commercial treadmills are designed for heavy use. The construction and motor of this kind of machine are of top quality and tested to the limit after manufacturing. If you are wondering about the motor speed, it is usually around three to four horsepower.
The belts in commercial treadmills are usually good for at least fifteen thousand or more km. These belts usually become unusable after that. Without changing belts, you won't face any issues with a commercial treadmill for a long time.
Lastly, there are all the possible features available that a treadmill can offer. Bluetooth, wifi, access to various workout programs, etc. And your clients can track and monitor various workout information like speed, distance, time duration, and calories burned.
Top 3 commercial treadmills
Commercial treadmills need to be heavy-duty. And you can't risk it by buying a treadmill from a company that you have never heard of. Rather buy any from the list I have created for you.
This is one of the finest commercial treadmills offering 1-year free iFit membership. The treadmill is large and the running belt size is 60 x 20 inches. The top speed can be 12 MPH thanks to the powerful motor this machine has.
The treadmill is long-lasting and durable, even with heavy use. Though there is no warranty available, you can buy this treadmill without any worries.
It's a durable commercial treadmill with 10 years warranty on frame and 2 years warranty on parts. It's a huge treadmill with a big running belt of a 22×60 inches size.
Apart from these, you will get iFit membership as well. A 22-inch Hd touchscreen will be there for you to control everything.
The Elite platform and belt give an excellent training experience with an improved, commercial Ortho Flex Shock suspension system and a larger 22′′ x 62′′ running platform.
And the orthoflex suspension underneath makes sure of smooth running every time even after frequent use.
3. Anti-gravity treadmill
There are a few people, for whom running on any kind of treadmill is a painful task and they can't continue for long. The reason can be joint pain, any kind of injury, obesity, etc. And if you are one of them, this kind of treadmill can be the ultimate solution to your fitness problems.
It's a new technology and often used in Medicals for people who have physical injuries or are extremely obese. The whole treadmill is basically inside a plastic bag which is airtight. First, you have to get inside the plastic casing and then air will be blown inside the plastic bag which surrounds the machine.
As the air is blown, the gravity inside the bag drops, and the part of your body inside the bag feels a bit lighter. Using this technique you can run at around 20 to 80 percent less of your body weight. This is how this treadmill is helping people with osteoporosis, knee pain, back pain, spinal cord problem etc. to get back on their feet.
The Alter G anti-gravity treadmill
It's the one and only anti-gravity treadmill which uses NASA's differential technology of air pressure. This treadmill is widely used in medicals, rehabs, and other places to help people deal with their various injuries. This treadmill was first created so that the astronauts can feel what it's like to walk in space.
4. Desk treadmill
This treadmill can be declared undoubtedly the most efficient treadmill out there. Because it's designed to get your work done while doing a slow walk or jogging at the same time.
The desk that comes with this treadmill is large enough so you can keep your laptop and other work essentials. And the option of altering the height of the desk according to your preference is available. You don't need to worry about stability as well.
As the tread runs at a slow speed, you can continue with any type of work such as reading, typing, designing, watching a screen, etc. Overall by purchasing this treadmill, you can stay active even while you are stuck with loads of work.
Top 3 Best desk treadmills
Desk treadmills are minimalistic in design and often are not as strong as other treadmills. Yet I gathered the best desk treadmills for you which are durable and easy to use while working.
This treadmill's price is pretty much fair compared to other desk treadmills. And it offers a higher weight limit as well which is 350 lbs. And on top of everything, lifespan offers a warranty of a lifetime on the treadmill frame.
If you are looking for a desk treadmill within a short budget, this treadmill from sunny health can be the best option for you. It also comes with a digital display that shows how many steps you have taken. And the shock absorbers which are built-in make running easy for you.
This treadmill is the strongest desk treadmill out there. It is built for long use in corporate places. It can tolerate up to 400 lbs of weight. Which means almost anyone can use it.
Types of treadmill: Based on the shape
Depending on the shape, there are a couple of treadmills. One is foldable and the other one is curved. They are of different shapes, and people choose the shape of treadmill they want.
1. Foldable treadmills
Ever been in a situation when you have the money to buy a high-end treadmill but don't really have the space? Well, now thanks to the new technologies there are foldable treadmills available in the market. A folding treadmill has all the benefits of a usual treadmill, and on top of that, it saves a lot of space in your room.
Apart from being foldable, these treadmills are often lighter compared to the other heavy treadmills. And the folding mechanism is very simple. All you have to do is fold the standing platform towards the lower part. After folding you can simply put the treadmill in a corner and use the space to do other cardio exercises.
Lastly, the overall maintenance of foldable treads is very easy since it's not that heavy. A huge problem that people face with other treadmills is that they can't clean the floor underneath the machine. But with a foldable treadmill, you can easily fold it and clean the area underneath.
Top 3 Best Foldable Treadmills
Not every foldable treadmill is the same. Some are easily foldable while some are not that easy. The following are the best foldable treadmills overall especially considering the foldability.
This device comes with iFit membership for a month so you can stream and watch all the exercise videos. It has a big touchscreen to control the incline and speed. Also offers a spacious running belt.
And the best part of this treadmill is the innovative design which saves your space with easy-lift assist technology. Because of this technology you can easily fold up the treadmill once you are done running.
It's a light foldable treadmill and the price is a bit less as well. But it does its job well and offers all the features you can ask for from a good treadmill. The soft drop mechanism introduced in this treadmill makes folding and unfolding this tread very easy.
This device comes with a knob system and you can easily release or pull the deck in order to fold or unfold the treadmill.
Plus, it comes with 12 different types of pre-loaded programs which you can use to burn more calories.
2. Curved Treadmill
This is in simpler words a better version of a manual treadmill. The base is curved and it gives the momentum needed to run fast. Using your feet you propel the belt.
As the base is curved, when you step into the curved treadmill, your first step needs to be somewhat lifted. And as you use your second foot to run, the first foot pushes the treadmill's belt behind. This creates momentum and the belt starts running.
As it's self-powered you can burn a lot of calories using this tread. And the curve teaches you to run fast and smoothly overcoming friction and hills. The total body fitness and athleticism increase by practicing on this treadmill.
The only drawback is the high price. The price of a curved treadmill will hit your wallet a bit hard, but the investment is worth it in the long run.
Top 3 Best Curved Treadmills
This stylish-looking curved treadmill is self-powered. With your effort, you start and stop the machine. As a result, you burn comparatively more calories while using it. It comes with side handles so you can have support while running.
This curved treadmill is made with very sturdy material. It looks solid and while running feels solid as well. You won't feel any vibration whatsoever no matter what speed you are running at.
It has Bluetooth features and the running belt is of top quality. It can run for at least 150000 miles.
This curved treadmill is known for its metal frame design. Apart from looking elegant, the metal design is very sturdy and makes sure you can run smoothly on the machine.
The best part is this machine comes with wheels, so moving it is easy compared to other curved treadmills. And running on it is not that hard as the belt is shock absorbing.
Benefits of Using a Treadmill
If I start writing about the benefits of treadmills, this article might not even end. But to save your time, I have listed a few of the most popular benefits of the treadmill. Some of these benefits might even make you more interested in buying a treadmill.
1. Overall improvement of health
Running on a treadmill every day improves your overall health condition. Reduces various cardiovascular problems and lowers your cholesterol. Within only 30 minutes of running on the treadmill, you can burn up to 250 calories.
No matter whether your goal is to stay fit or lose weight, adding a treadmill to your everyday routine will benefit you beyond your imagination.
2. You can workout at any season
Usually, people who workout outdoors are often helpless when the weather is bad outside. In super hot weather or rain, doing workouts outdoors seems impossible.
But if you have a treadmill, you don't need to worry about the weather. All you need to do is find about half an hour from the entire day and get on the treadmill. You don't even need to waste time going to the gym or outdoors. And the best part is even if it's raining outside or it's scorching hot, you can do your workout at room temperature.
3. Relief from pain
A moderate amount of walking on the treadmill is often suggested by doctors to people who are suffering from knee pain or joint pain. The reason behind this is usually treadmills come with a system that can absorb shock.
So the impact of running on your knee is usually decreased by about 30 percent. As a result, you get rid of the knee pain.
4. Keeps you motivated
The fact that treadmills keep track of all your activities and later you can see it, motivates you to achieve more. From the screen you can see how many calories you have burned, the distance you have run, etc.
This kind of information motivates you to do better everyday. Which you wouldn't have gotten if you were working out outdoors.
5. It's safe
Treadmills are usually one of the safest exercise equipment out there. As with the help of the treadmill, you will be running indoors, you won't have to deal with potential outside hazards.
Also, outside weather is often not safe for you due to various reasons. Plus, running directly under the sun for a long time may cause health casualties.
6. Versatile training courses
These days the treadmills come with preloaded training modules which are often very beneficial. You can even choose videos of specific instructors and do live classes as well.
There's a tool called iFit, using which you can access all the different courses and instructors from your treadmill. You can also compete with other treadmill users.
7. Everyone can use it
We know not everyone can perform every exercise but running on a treadmill is the one and only exercise which almost anyone can perform. So by buying a treadmill, you won't just help yourself, you can motivate your family to stay fit as well.
Conclusion
Since there are numerous types of treadmills available in the market, choosing one is always going to be tough. But I hope this article will help you with finding the treadmill which offers all the things that you want.
Don't give up if running seems a bit difficult at first, you will slowly get the hang of it and start to love running on the treadmill. Do make sure you put at least 30 minutes a day on your treadmill.