Nowadays smartwatches are not only sought for stylish looks that make you appear different from others. Rather many smartwatches have become health plus fitness tracking devices. 
High-end smartwatches now have features like ECG report, blood oxygen level monitor, blood pressure reader, footstep reader, stress management feature, sleeping tracker, and fall detection features with emergency calling system.
In this article, I have brought some of the best ECG smartwatches that are currently dominating the market for their mind-boggling health features.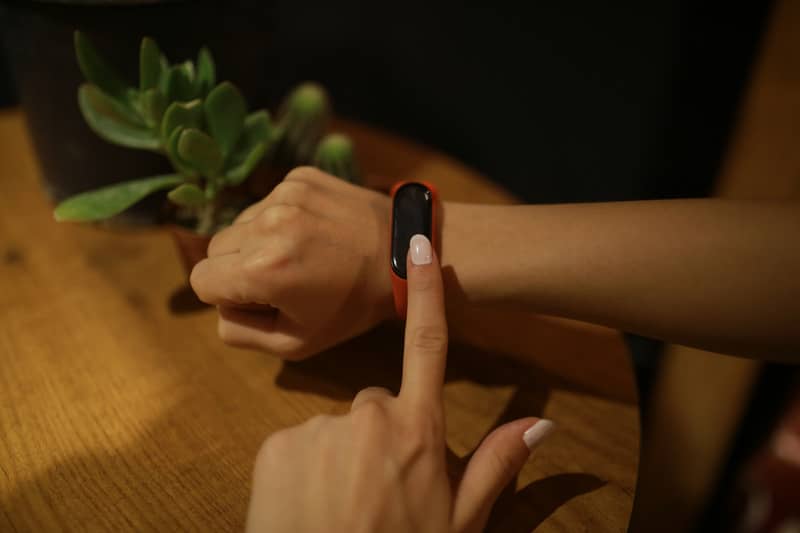 What is ECG?
ECG is a painless test that can detect if you have any heart problem plus it does detailed monitoring of your heart health. It tells you the condition of your heart by recording the electrical signal of your heart. 
Best ECG Smartwatch: Top 5 ECG Smartwatch
Nobody wants to spend a long time just researching before buying a good gadget Because there are hundreds of devices present in the online market.
So for your convenience, I have listed 5 ECG smartwatches that offer the most features at a good price level.
Below, you will see both the good side and lacking of each ECG smartwatch. Let's have a look…
1. Apple Watch Series 7
Apple Watch Series 7 GPS is one of the top-notch ECG smartwatches that you get to see in the current market. This wearable device is FDA approved and can generate ECG results within 30 seconds.
This gadget will be extremely helpful for your healthy lifestyle as it's backed by versatile features. You will be impressed with the crack-resistant front crystal which increases its durability.
One of the most unique features is fall detection which takes the user safety level to a whole different level. It will automatically make a call to the Emergency service around your location if you don't respond for one minute.
Plus, it helps you to do your ECG anywhere at any given time. For users' overall health safety, Apple Watch Series 7 will notify the users about their low, high heart rate, or irregular heart rate.
Moreover, the display has an ample amount of screen where you can easily see your blood oxygen level, your daily workout data, and sleep data. It also gives the user access to make calls and text which is a great advantage while you are on mass transport.
Furthermore, the battery charges pretty fast but unfortunately, battery life is quite short which is lacking.
Overall, the Apple Watch Series 7 is an excellent gadget though it's pretty expensive.
Pros:
FDA approved ECG reading system
Durability and built quality is brilliant
Users can do ECG check at any time and share with the doctor
Fall detection, workout data, blood oxygen level features
Notification system for irregular heart rate
Cons:
Battery life is not very long
Price is very high for most the people
2. Apple Watch Series 6
Apple Watch Series 6 is a high-quality smartwatch that can work as a portable ECG machine and generate high accuracy results within 30 seconds. This gadget got approved by the FDA making it one of the reliable ECG smartwatches on the market.
This smartwatch comes with an always-on retina display that provides enough brightness so that users can easily use it when they are outside.
Also, you can make calls and do texting using it conveniently. It comes with an awesome feature that can track your every movement during multiple exercises like running, cycling and swimming, etc.
In addition to that, you can have a deep check on your health by reading your sleeping time, blood oxygen level, and heart rate. Although the looks and features of this smartwatch are outstanding, the battery life is really low.
Furthermore, you will get a fall detection system that will immediately call the local emergency service if you don't respond for around a minute. Plus, the ECG report will help you to keep your heart rate in check. Any unnecessary heart rate will notify you.
Moreover, the GPS works pretty well and the screen size is comfortable for users to operate. When it comes to pairing it with an Android phone it simply won't. It will only connect to an iPhone.
Considering the dark and bright side of this ECG smartwatch I can say that Apple Watch Series 6 is a good buy even if it's pretty costly compared to other smartwatches.
Pros:
It got approved by the FDA
ECG, Blood oxygen level result shows quite accurate
Display size is large enough with high brightness 
GPS, heart rate notification, and workout movement reading
Fall detection with emergency call provide user safety
Cons:
No connection system with Android phone
The price tag is much higher
3. Fitbit Sense
Fitbit Sense would be a matchless choice if you are looking for an ECG smartwatch. It can be an excellent gadget for your healthy lifestyle that is packed with multiple features for fitness-aware people.
This awesome smartwatch can trace any irregularity of users' heartbeat and give you signals. In addition to that, it also helps the user to share the data with their doctors.
Plus, this wireless ECG feature will provide you with a high accuracy ECG result in only 30 seconds. This feature is a magnificent addition to this smartwatch which will help you to stay alert and prevent yourself from having sudden serious heart problems.
Moreover, Fitbit Sense has a stress management system that would give you an update about your overall stress level so that you can keep your stress level in check. Sadly this smartwatch doesn't have any emergency SOS feature.
Furthermore, features like oxygen saturation reading, skin temperature monitoring, calorie tracker, and sleep tracking would help you maximize your health level.
When it comes to battery life, Fitbit Sense is a killer which can stay without charge for 6+ days. And also you can give it full charge in a very short time. You can make calls, text, and also use GPS if you are exploring a new place or a friend's home.
Many people will find the Fitbit Sense costly but that comes with a lot of useful and beneficial features. Overall, it's a great deal for cardio-conscious people.
Pros:
Good accuracy of ECG report
Notification for irregular heart rate
Versatile features to lead a healthy lifestyle
The battery lasts for a long time and takes only a few minutes to full charge
GPS, stress management system, calling and texting feature
Cons:
Absent of any emergency SOS feature
The price margin is much higher
4. SAMSUNG Galaxy Watch 3
SAMSUNG Galaxy Watch 3 is a perfect choice for you if you are looking for a high-end ECG smartwatch that has a very stylish design. FDA approval of this gadget makes it a reliable wearable device for a healthy lifestyle.
Unlike many other smartwatches, it would provide you high accurate ECG results in a short time. Also, you can share the report with your personal doctor instantly. You will definitely love the durability of this smartwatch and its water-resistant level.
All of us look for multiple features that will add value to our life and Samsung Galaxy Watch 3 does that on point. You have the option to quickly boost it from your Galaxy Phone using the Wireless Power Share. But the battery life is not really high.
Plus, features like the heart rate monitor, sleep tracking, blood pressure reader, oxygen level monitor make it the ultra choice for people with heart issues. It will be an absolutely helpful device as you get a fall detection system with an emergency call feature in it.
Moreover, calling, texting and notification via Bluetooth connectivity is added which makes it more user-friendly, Screen size is big enough and you won't feel any problem with the fine quality display.
All in all, in this price range SAMSUNG Galaxy Watch 3 is a good buy.
Pros:
ECG report feature approved by FDA
Premium level design
Fall detection, blood pressure reader, and oxygen level monitor
Durable watch with fast charging option from Galaxy Phone
Waterproof, high-quality display screen
Cons:
Battery life is not that good
5. Fitbit Charge 5
Fitbit Charge 5 is a top-grade ECG smartwatch. It simply comes with uncompromisable features and will work as your heart guard. You can rely on the result of this smartwatch due to its FDA approval.
You can take your ECG read anywhere at any time just using the apps on the watch. All you need to do is to press and hold the case for 30 seconds.
Plus, the battery life of Fitbit Charge 5 will easily beat its competitor as it can easily run for multiple days. To reduce your body stress it's gifted with a stress management score just by following it you can arrange your activity.
The colorful OLED display of this gadget is really nice and won't be hard on both your hands and eyes. You can read from the screen easily outdoor due to the ample amount of brightness.
In addition to that, sleep score, calorie burn level, blood oxygen reader, and heart rate notification will drastically help you to take care of your health. One of the noteworthy lagging is that it doesn't have an option for music control
Moreover, calling and texting options are available to increase the user-friendliness level. Water-resistant features help to use it during a swimming session.
In spite of being an expensive smartwatch, the Fitbit Charge 5 is an awesome addition to the life of every cardio fitness lover.
Pros:
OLED display provides enough support on outdoor
Sleep tracking, calorie-burning level, irregular heart rate notifications 
Options to make calls and do texting 
Instant ECG report with high accuracy 
Stress management score to check the stress level
Cons:
No storage for music
A bit expensive smartwatch
Buying Guide
A few years back it was hardly imaginable that a hand watch could act as a phone plus a personal fitness portable tool that can give you lots of important reading of your health with a good level of accuracy.
Now we have the chance to use such features. The Latest-model ECG smartwatches are just killing it with each of their upgraded versions.
However, before buying your ECG smartwatch it's crucial to know all the factors that would help you to buy the best ECG smartwatch at your budget price. Let's have a look..
ECG Report Feature
Among all the features, this is the most important thing you should be looking at on an ECG smartwatch.
In addition to that, always go for the FDA-approved ECG smartwatch. Because they generate data that usually have a decent level of accuracy.
Try to buy those smartwatches that not only have an ECG report system but also have the option to share the data instantly with your personal doctor.
Versatile Fitness Features
ECG smartwatches which are packed with multiple fitness features will be absolutely helpful to keep your heart status at a security check.
Some remarkable features like step counters, sleeping tracker, blood pressure sensor, abnormal heart rate notification, fall detection, blood oxygen level, GPS, calorie burned and SOS features make ECG smartwatch a super effective tool for a healthy lifestyle.
If you don't want to end up having a bad buy then you must ensure most of these features are available in the ECG smartwatch.
Compatibility
Undoubtedly the top-notch feature you need to check is that the ECG smartwatch you are planning to buy will work smoothly with your phone. Or you will simply keep biting your own fingers after losing a couple of hundreds of bucks.
Because there are many ECG smartwatches out there in the market which will specifically sync and connect with specific phones. So you gotta be really careful about it.
Some Apple watches work and sync just with the higher model iPhones. Even some suits with Samsung but not with another android. Read out the compatible mobile phone of your ECG smartwatch before purchasing it.
Battery Life
Different models of ECG smartwatches have different levels of battery life. Check the battery rating if it seems good. Go for it. Make sure you are purchasing the one which will easily go for one day without charge.
It's really painful to let it charge multiple times a day. However, if you intend to use your ECG smartwatch frequently then no matter which model you buy it will lose a significant amount of charge.
Fast Wireless Charging
Many ECG smartwatches come with features like wireless chargers and they do charge really fast. Some come with cables too. Try to buy the wireless one as it's convenient and upgraded tech.
Water Resistance
If you often go for swimming training, live in an area where it mostly rains, or engage in a job where water is unavoidable then buy the ECG smartwatch which has a better than average water resistance level.
Comfortable
Most of the smartwatches are now upgraded enough and provide a minimum comfort level for long time use. But still different people find comfort in different materials. Have a look as each model offer unique watch bands

The latest models are not only lightweight but also made with ultra-comfortable wear bands that will increase your comfort level. Plus, don't forget to ensure that the ECG smartwatch has replacement bands.
Communication
High-end ECG smartwatch keeps the communication options available for their consumer. You as a user must look at texting and calling features in your smartwatch. It reduces the hassle of checking out the phone from pocket or bag.
How does ECG work in a smartwatch?
Nowadays, this technology has been embedded into smartwatches which can show instant results of ECG and many of them got their approval from FDA.
Smartwatches have sensors that are able to trace the change of your heart rate based on the blood volume passing inside your wrist.
Apple watches use PPG technology to show you the ECG result using an algorithm. This algorithm will be able to produce notification if there is a big gap or more frequency in the heart rate.
The main difference between an ECG at any hospital and the wearable smartwatch is that in hospitals the machine has 12 leads while a smartwatch has a single lead to take the readings of your heart signal.
How do you know if you're monitoring your HR correctly?
While measuring your heart rate using the smartwatch, you can do a few things to make sure it's working properly.
Ensure the exact fitting of your ECG smartwatch around the wrist. It should not be too tight nor too loose.
As you sweat, your smartwatch sensor might also get dirty a bit. Keep it clean to ensure there's no obstruction during the reading of heart rate.
If your body temperature is cold or has low blood circulation, it's ideal to take measurements after a warm-up to get the optimum result.
Never take measurements after consuming alcohol and smoking cigarettes. Because these things alter the natural heart rate.
Advantages and Disadvantages of ECG Smartwatch
Every health technology improves with time. With the upgrade of technology, a lot of errors are reduced. You can see the same thing with the ECG smartwatches.
In the below part, I will briefly explain the advantages and disadvantages of ECG smartphones. So let's have a look.
Advantages
Patients can evaluate palpitations levels and get notified in case of abnormal heart rate.
Users have the access to read their own health's multiple health-related measurements.
Allow the user to trace their blood pressure level.
The screening features given for atrial fibrillation (AF) are to help people from high-risk groups.
You can get the data of your oxygen level in the blood.
Assist the user to modify their lifestyle by tracing health measures.
FDA approval increases overall safety for the user plus the accuracy of ECG is quite good.
Disadvantages
They have only a single lead system to carry out the ECG.
The price is a bit higher.
It might show both false positives and false negatives.
Health data and personal data are not secured enough.
Frequently Asked Questions
Is smartwatch ECG accurate?
According to some findings, the ECG results generated by the smartwatches have an accuracy rate of 93%-95%.
How do Smartwatches measure ECG?
Using a single lead sensor the smartwatches take the reading of heart signals and produce ECG report.
Can ECG detect heart problems?
ECG reports can tell a lot about the possible heart problem. Because it can tell you if you are suffering from too high or too low heart rate.
Which smartwatch can check ECG?
Currently, in the market, you will find Apple Smartwatch, Samsung Smartwatch, and the Fitbit Smartwatch can give you ECG reports.
Conclusion
ECG smartwatch can bring a positive change to your life. If you can use it properly, you will be able to maximize the output which will increase your heart health for sure.
I have talked about five different ECG smartwatches and each of them have their pros and cons.
I expect that you have found the best ECG smartwatch in this article which will help you to choose the one which you think is the most stylish one with tons of features.