Carrying a fat belly is not something very convenient, is it? Starting from clothing fitting issues, physical limitation, heart issues, and many others keep coming with this belly fat problem. You should be thankful to that guy who invented the indoor exercise bike.
The benefits and outcomes of indoor exercise are much more than you can imagine if you use it correctly. Here we tried to find out which are the best exercise bikes to lose belly fat. Most of them are loaded with excellent features that will help you to continue your fat-burning target comfortably.
Best 16 Exercise Bike to Lose Belly Fat: Review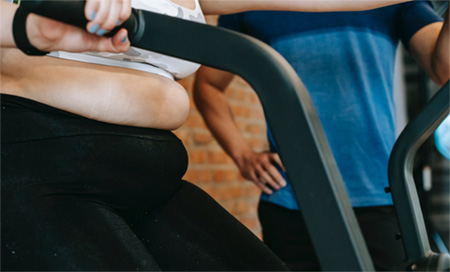 For a healthy and happy life, you should lose that belly fat as fast as possible. The earlier you do the better, as you age your metabolism will take a turn for the worse and losing it then will become harder.
After doing a lot of research, analyzing, and comparing, I found these exercise bikes to be most effective for burning your belly fat. I hope this article will help you to choose the best exercise bike according to your budget and fitness level.
So, let's see what the features are and good-bad about those indoor stationary exercise bikes.
1. YOSUDA Indoor Cycling Bike
Do you want to achieve a belly fat-free physique? This one might be very helpful regarding that. A nice-looking and functional indoor cycling bike that is an upright model. The flywheel and heavy-duty steel frame will provide you excellent stability during the exercise.
Moreover, the upright style of this exercise bike will allow you to sit in a position just like an athlete sits on a regular road bike. A small red color small control knob is attached to the mainframe of this bike. By turning it, you can easily increase and decrease the resistance on the flywheel. You can do pretty much a softer level up to hardcore level workout.
The LCD monitor of this exercise bike will help to keep the check on your workout time, distance, speed level, calorie-burning level. There is an iPad holder on the front side. Using this you can keep your iPad.
The overall safety is also good. It has nice adjustable cage pedals that prevent you from riding too fast. You can also press the resistance bar to make it stop on spot. A water bottle holder is also attached for your replenishment.
The adjustable seat and handlebar will ensure your comfort during the workout. Among its competitors, it is one of the sturdiest because of the high-quality steel frame which is rustproof, and powder coated.
Though it has many good features one minor issue is there. The display is very basic for the price range. However, this is one of the best choices in this price range.
Pros:
The price is quite reasonable
Noiseless during exercise
Good stability because of high-quality steel
Adjustable seats and handlebar make it user friendly
Cons:
The display is too backdated
2. PYHIGH Indoor Cycling Bike
PYHIGH indoor bike is a stylish-looking bike that comes with bidirectional flywheel weights of 35 lbs giving more stability and inertia. The sturdy triangular steel frame and the widened rock-solid stabilizer's horizontal adjustment make it extremely stable and make the exercise bike more robust. As it is embedded with the belt system, it remains quiet during exercise.
Plus, it's easy to assemble. The cushioning of the seat is ultra-comfortable, and the seat is adjustable which is great for the proper posture of the body. The handlebar is also adjustable and non-sloppy. Overall, it's built in a way that you can easily work out in your comfortable position.
In addition to that, An LCD monitor enables you to track total time, speed, calories burned off and distance to mark your milestone. Besides, the non-slip cage-shaped pedals that come with an adjustable strap will fit in your feet easily and provide protection. An IPAD mount on the upper front helps you to keep your IPAD.
A red-colored knob is equipped for increasing and decreasing the resistance level of the flywheel. Good quality transport wheels make it easy to move without much effort.
Though it has so many good features it has one problem. The LCD monitor is not up to the mark. Anyway, looking at the utility at this price range this can be one of the hot grab deals for you.
Pros:
Built quality is quite solid and sturdy
Easily affordable and good value for money
Multiple Adjustment in seats, handlebars, saddles, and flywheel resistance
The ground support from the base is superb
Cons:
The LCD monitor is not that techy
3. SOVNIA Exercise Bike
SOVNIA Exercise Bike is an elegant-looking bike. It is equipped with multiple functional features that will be a highly beneficial factor for you to work out and shred that flabby belly fat. The sturdy triangular steel frame and 35 lb flywheel ensure excellent stability.
Apart from that, a good quality belt system is installed in it. It's quite simple to assemble. The flywheels can be easily controlled by the brake knob that is attached to the mainframe of the exercise bike. Also, you will get an extra brake pad free with the exercise bike. The LCD monitor helps you to monitor the speed, distance, time, and ODO.
To increase your overall user experience, it has 2 adjustable handlebars that give you a good grip. You can also adjust the seating position according to your requirements. The well-made seat will allow you to exercise without any discomfort.
If your house is a bit small then you can just tilt it and move it without any stress on your muscles. The transportation wheel will give you full support.
Furthermore, a bottle holder is attached to ease your thirst during your workout which is easily accessible from the sitting position. The four-foot exercise bike is quite wide and holds the balance while you are cycling at high speed. You can adjust the feet by adjusting them on any uneven floor.
However, this bike has one problem, and that it has a limited weight capacity of 285 lb. So very big and obese people won't be able to ride it. Overall, looking at all features at this price this one deserves to be on your home gym list.
Pros:
Well-made comfortable seat
The LCD display is quite informative
Smooth ride because of the good quality belt
Quite simple to assemble
Cons:
Weight capacity is limited to 285 lb
4. JOROTO Belt Drive Indoor Cycling Bike
Do you like the spin bikes that you see in the gym that are famous for making fat people fit? Then this one is quite close to those exercise bikes. The belt system and magnetic resistance will ensure a riding session that is smooth as butter. It remains noiseless during the workout.
Moreover, the wider seat and 4-way adjustable handlebar increase the comfort level. The steel frame of this bike is robust because of the 50mm thickened frame tube. Steel toe caged pedal along with adjustable strap is made to fit any size of feet.
The 6 magnets will generate a great magnetic resistance. According to your workout plan, you can easily use the adjustable knobs to maintain the required resistance. Emergency stop brakes increase the safety of your ride. You will also get a multi-use holder where you can fix your tablet, phone, and other stuff close to you.
Also, the 2 transportation wheels will assist you to take your bike from one corner of the house to another corner. This bike is pretty heavy and has a strongly built four legs with a widened stabilizer which makes it extremely stable.
Among all the goods, it does have two shortcomings and that is the handlebar doesn't come close enough. And another is that the display doesn't remain in a single mode and constantly keeps changing. But overall top to bottom flexing with features is indeed a great choice to bring your uncontrolled belly fat under control and toned up flat belly.
Pros:
Easily moveable from one spot to another
Heavily made flywheel with literally no noise
Comfortable seat for your exercise session
Extremely stable due to the adjustable ground support
Cons:
Handlebar adjustment may not be close enough for some people
Display mode keeps changing
5. Cyclace Exercise Bike Stationary
First, the assembling of the bike is straightforward. The steel frame of the Cyclace exercise bike is sturdy as the manufacturer claims. The 36lb flywheel adds more to its stability. You will get a high level of resistance by using the knob. Let's get into action and start cutting those wavy belly fat and waistline.
When you will be riding, it won't generate any noise. Even if you are a professional or beginner, it does not matter because of the adjustable features given to it.
The LCD monitor is installed nicely which you can use to view the time, distance, total calorie burned, speed level, and odometer. The seat installed can be adjustable in 4 ways.
As it is busted with features so you will make it easy to use thus you can build your core muscle, reduce any chance of injury, and also increase the heart's strength.
The adjustable handlebars are PVC coated and far better than any cheap plastic cover which leaves a scratch on your hand. You will get an excellent grip for different types of positions. Thankfully, it also allows the tall user to ride it without any problem. The adjustable footpad will increase the overall stability.
Though it's a good indoor exercise bike, it has 2 minor problems. Some people may find the seat a bit uncomfortable, and the pedals are not that sturdy. However, in this price category, few competitors can beat this exercise bike so it's a good value for money.
Pros:
Well sturdy construction
Multiple adjustments and PVC coated handlebar make it convenient
A high-quality footpad add stability
The assembling will be very easy for you
Cons:
Some people may find the seat uncomfortable
The pedals are not strongly built
6. JOROTO Magnetic Exercise Bike
Here is another multiple feature bike perfect for shaping up your fat belly to a tough and flat belly. This exercise bike is a strongly built one. The steel frame is high-quality and heavy-duty, so you will find it extremely stable and sturdy. This flywheel ensures less shaking on the riding time.
Plus, you can use the knob to create magnetic resistance on the flywheel. The belt drive system lets you exercise in a noiseless approach.
The adjustable levels of this exercise bike are outstanding because you can easily adjust the seat and handlebar to your natural workout position.
Besides, widened stabilizers make your overall workout experience more stable. The assembly process is also easy. A simple LCD monitor is added to read the distance, time, calorie burned, and speed level. Though it's a basic level monitor, it will be helpful for your workout session.
Moreover, it has multipurpose holders where you can fix your IPAD and bottle. Transportation wheels are amazing for the portability of this exercise bike. An AV-type frame and 50mm thickened frame tube makes it rock solid and it can carry a maximum weight of 300lbs.
Every machine has good and bad inside it, so does this too. The display is very normal compared to the price. To sum up, anyone weighing less than 270-280 pounds and does not have a problem with the LCD monitor would find it an excellent worth of hard-earned money.
Pros:
Rocksolid structure due to high-quality thick steel
High-quality magnetic resistance on the flywheel
Excellent smooth-riding time
Various adjustment features for users comfort
Cons:
Basic LCD monitor
7. DMASUN Indoor Exercise Bike
From both aesthetic and functional points of view, this indoor cycle is just phenomenal. It will increase the beauty of your home gym and also one more belly fat shredder. The flywheel is very heavy and the magnetic brake system will provide a longer service time.
What's even better, the 42lbs flywheel increases the stability to another level. One amazing thing is that it has multiple handles which broaden your choice of using the handle. Compared to many other indoor bikes, this one offers you a high-quality cushion. Which helps you to complete a comfortable workout session.
You can adjust the resistance level by twisting the knob to increase the overall toughness of your workout. The more you are cycling the more resistance you can create to shred those belly fat in a faster way.
Moreover, you also get a water bottle holder and a tablet holder. The transport wheel helps you to move the indoor exercise bike easily. The weight-bearing capacity of this bike is high.
Furthermore, adjustment leveling feet help you to use the bike on any uneven ground. The steel frame makes the total construction sturdy and rock solid. The attached LCD monitor will help you to check on the speed level, distance covered, calories burned, pulse, and total exercise time.
However, the only problem is that the LCD is not up to the latest grade and the seat sometimes might be uncomfortable for some people. But looking at the price and the provided features, it's a must-buy indoor bike.
Pros:
Heavy and rock-solid construction
Large size heavy flywheel adds super stability
Stylish, modern looking, and highly functional
Multiple handlebars for users' comfort
Cons:
LCD monitor does not match with the latest tech
Some people will find the seat a bit uncomfortable
8. ADVENOR Magnetic Resistance Exercise Bike
The Advenor bike will be a great helper for your fat belly-burning program. You will enjoy noiseless, stable, calculated, and proper body training using it. The bidirectional 35lb flywheel adds stability.
A knob is fixed with the steel frame using which you can control the magnetic resistance on the flywheel with 6 magnets. Unlike other indoor bikes, you don't have to replace the brake pad because of the magnetic resistance.
Moreover, the adjustment system of the seat and handlebar will help you do the cycling session smoothly and efficiently. The ergonomically designed wide high-quality cushion seat will not disturb you during the workout. A device holder is attached for keeping IPAD or TABLET.
The pedals have a sawtooth design that will reduce the chance of feet getting out of the pedal during exercise. Furthermore, the LCD monitor facilitates the reading of speed, total calorie burning, distance completed, etc.
In addition to that, the foot holders are wide enough to give you enough stability. Wheels are added to the footpad to allow the bike to move without wasting much energy at your post-workout moment.
This ultra-stylish indoor bike has two problems. One is that the handlebars don't have high-quality padding. Another is that the device holder is not suitable for all types of regular phones. However, it would be a profitable buy at this price with all these features.
Pros:
The flywheel is heavy which increase the stability of the ride
Ergonomic and cushiony seat ensure pleasant workout session
Magnetic resistance removes the need of buying any brake pad
Does not generate noisy sound during the ride
Cons:
Handlebars are not comfortable due to missing well padding
The device holder is not convenient at all
If your living space is small and you need a multiple feature workout bike, then this would be a good choice. You can use this bike as an upright bike, semi-recumbent bike, and recumbent bike. The built quality is strong allowing the heavyweight user like 300lb to use it.
The handlebar is nice looking, and it comes with a pulse checker. As this bike is foldable, it will require a small place in your home. Handlebars are designed in such a way that it's simple to use for both upright and recumbent positions.
Moreover, the triangular frame and the footpad do a good job of stability. The uniquely designed seat that is attached with back support ensures an ultra-comfy riding moment. Also, you can adjust the resistance level. Increase the resistance level to say goodbye to belly fat.
It's easy to move as the transportation wheels are well-functional. The pedal is anti-slippery so you can expect a safe ride. When you start pedaling you will enjoy a comparative noise-less ride.
The leg-resistance band helps to tone up the leg muscle to avoid any cramping issues. The arm resistance band that is attached assists you in some light hand workouts to keep the biceps in check.
A minor thing the manufacturer missed is that there is no water bottle holder. Other than that, this stationary bike is the ultimate value for money.
Pros:
Foldable options help you save a good amount of space
Full body workout options because of the arm resistance
The built quality is enough sturdy to carry heavyweight
Pedals are very safe to use during a high-intensity workout
Cons:
No holder option for keeping a water bottle
10. Pooboo Foldable Exercise Bike
Are you getting bored of those spongy belly fats? Then the Pooboo foldable exercise bike deserves to be in your indoor gym because of its amazing features and utility.
A HD electronic dial is there to track the duration of the workout, overall distance coverage, burned calories, and speed. Foldable functions make it more demanding. An ultra-home gym tool for compact apartments. The seat is large compared to many competitors and also you can adjust it to your needs.
Even if you are a big size guy it won't be uncomfortable for you because the handlebars are broad enough and user-friendly for wide-shoulder people. Resistance bands are provided so that you can warm up your upper body parallel with the lower body.
This stationary bike can carry a weight of up to 200 pounds. While riding there is less chance of any slipping of feet because of the good quality non-slip pedal. As the built quality is robust it ensures reasonable ground stability. The footpad is wide enough to keep it straight during a high-speed workout.
Though it has so many good features it does have two issues. One is that the seat sometimes becomes wibbly after a heavy workout and another is that the weight capacity is very limited. However, looking at the plus side it's a good to go deal in this price range.
Pros:
The arm resistance band is a bonus
Built quality is such that it stays stable during workout
High-quality non-slip padel prevent any injury
LCD monitor to track all workout related data
Cons:
Sometimes the seat starts wibble in the middle of the workout
Weight carrying ability is not up to the mark
11. BCAN Folding Exercise Bike
Looking to melt away those stubborn belly fats? Give your waistline a break by investing in the BCAN folding exercise bike. With 8 levels of magnetic resistance, this machine provides an effective workout especially perfect for progressive workouts that tap into various calorie-burning muscle groups.
Coming at 50% space saving and with all-adjustable features, you can't go wrong with this fail-safe product! So, whether you're watching TV with friends or just need to get some things done around the house without leaving your living area, this discreet little workout machine always delivers.
Wondering how long it'll take to see results? Rest assured that it will work quicker than your anticipation! But what's more important than seeing actual physical improvements is feeling better while shedding extra fat. Thankfully, it's equipped with an oversized padded seat and smooth pedals to ensure a comfy ride.
The 330lbs weight capacity ensures this exercise bike can effortlessly hold larger people, while the stable feet, commercial-grade steel, and triangle shape structure will offer an optimal ride.
Moreover, it comes with a 7-level height adjustment system that makes the stationary cycle ideal for family members of different heights. Yes, you can adjust the height from 4 ft 9 inches to 6 ft 1 inch. The exercise bike's pedals are anti-slip and adorned with high-quality rubber straps to keep your feet in position during intense pedaling.
With a precision-balanced flywheel, LCD Monitor, Tablet Holder, and Pulse Monitor – this one will bring your cardio routine to the next level. Overall, this machine is easy to assemble and use.
Pros:
Affordable price tag
Easy to set up
7 levels of height adjustments and 8 resistance levels
Can withstand 330lbs of weight
Cons:
12. PLENY Total Body Workout Exercise Bike
Introducing an excellent exercise machine that will help you lose weight or tone your body while staying inside your home. This amazing bike can be altered into 3 different types of exercise bikes to accomplish different workout goals. Yes, you can easily change it to an upright bike, recumbent bike, or semi-recumbent bike and it will deliver superbly in all forms.
Moreover, this transforming feature allows this bike to serve people of different ages. So, this all-rounder bike can be a one-stop solution for your whole family. Moreover, it has a comfortable high backrest to help you lose belly fat without causing any issues to your back.
Plus, it comes with 2 adjustable resistance bands to assist in toning your upper and lower body muscles. So, you can work all over your body with high intensity. Though it has a lightweight appearance, it supports weight up to 300lbs. Impressive, isn't it?
You will enjoy playing with its 16 levels of resistance as you can easily set the resistant level between 1 to 16 according to your workout routine. The phone or Tab holder along with the ergonomic handle will also make things simple for you. The handles also come with heart rate monitor sensors.
In addition to that, it is equipped with a backlit LCD screen that makes it easy for you to track your progress. Besides, you can effortlessly fold and store the bike with the help of its transportation wheels. This machine is also super easy to assemble.
Overall, its ergonomic design with a modern look will add a great look to your house. And you will surely love its quieter operation.
Pros:
Easy to put together
It can be changed into 3 different types of exercise bikes
The bike has 16 levels of resistance
Cons:
The Heart rate data aren't accurate
13. Barwing Folding Exercise Bike
If you want a budget-friendly and reliable exercise bike that can be used as an upright, recumbent, or semi-recumbent bike, this guy from Barwing can be the most suitable choice. Its simple design makes it easy to fold up and store into a small space. Moreover, its smooth transportation wheels let you move it one place to another effortlessly.
It also comes with a built-in LCD screen on its handlebar, which allows you to check your important fitness data while riding. The 3 levels of bike adjustments make the bike ideal for everyone.
Apart from that, the product comes with 16 different levels of magnetic resistance with a flexible tension control knob. As a result, you can set the resistance levels according to your fitness goals and workout intensity. The resistant bends are also given so that you can work on your upper body and lower body.
To exercise with ease, the 3 in 1 bike's padded seat and backrest can be adjusted. This feature is useful for people with back and knee problems. Also, the 8 levels of seat height adjustment settings will give short or tall people further control while exercising.
The best part of the machine is it remains super quiet during exercise. To sum up, this sturdy bike is the perfect combination of style, practicality, affordability, and comfort.
Pros:
3 in 1 bike design
16 levels of resistance and 8 levels of height adjustment
Built-in highly readable LCD screen
Cons:
The shorter person may face some issues using the bike
14. Magic Life Magnetic Folding Exercise Bike
Magic Life's exercise bike is one of those where you can just sit and pedal away, forgetting the worries of the world. Since it's a recumbent exercise bike, they've taken special care to make it comfortable for the users, courtesy of the PU seats with the broadened area.
It has 10 levels of tension that you can easily adjust by turning the knob, making it usable for a wide variety of physiques. Even though it's completely built with a steel frame, the magnetic wheels are there to deliver smooth performance, they also ensure the sounds remain insulated.
This folding exercise bike is one of my favorites due to its design. It looks so minimalistic, and it actually even is! By folding it, you can save a staggering 80% of space- a perfect space-saving a recumbent bike for those struggling with storage.
And while you're pedaling to work on your lower body [like knees, thighs, glutes, etc.], the arm tension band is there to train your arm muscles at the same time.
The LCD monitor will provide you with real-time data of how many calories you've burnt and how much distance you've covered at what speed. You'll also get to see your heart rate thanks to it.
You also have a device holder where you can place your iPad or tablet and watch your favorite source of entertainment, whether that's a new show on Netflix or calming pet videos on YouTube.
Oh! I forgot something important, the maximum weight capacity of this bike is 330 lbs, which is higher than the average capacity of most bikes in this price range. You're getting solid stuff!
Pros:
2-in-1 recumbent exercise bike
Extra-large seats with cushioned backrest
Doesn't make too much noise
7 adjustable seat heights
Cons:
Not enough resistance for hardcore users
15. Doufit EB-04 Foldable Exercise Bike
If we talk about simple exercise bikes that are space-saving, economical, and still have good features, Doufit would be one of them. You'd probably think such an equipment is too good to be true, but it's real!
This bike has a total of 8 magnetic resistances to give you different levels of challenges and intensities from beginner to advanced. Resistance level 4-6 is particularly great for losing belly fat.
You can adjust your seat height to 5 different levels. But that's not the highlight here; it also has 7 different pedal belt lengths that you can adjust to your liking.
This is really helpful as some people struggle with seat elevations, especially tall people or those who have long legs.
While this bike is compact in its natural state, you can even make it smaller by folding it, this way you can store it under your bed or in your closet too. You can even fit in a mid-sized car.
Since it has transport wheels you don't have to carry it, you can just pull it in one hand.
While it looks thin, don't underestimate its durability. This exercise equipment is made out of strong reinforced materials that make it bear up to 242 lbs.
The LCD monitor has a clean UI, you can easily pick up on how fast you're going, how many calories you're burning, the total distance you covered, etc.
It shatters the stereotypes people have about small bikes.
Pros:
Has a pulse monitor to read heart rate
X shaped design for better balance and firmness
Weighs only 33 lbs
Space-saving and portable
Cons:
Not best for people over 5'8″
16. XTERRA Fitness FB150 Folding Exercise Bike
I saved the most stylish one for last. XTERRA's exercise bike is the most eye-catching one out of them all. Its gorgeous bright blue shades over the sleek silver body are mesmerizing. I'm sure its design alone would turn a lot of customers' heads.
Its dimensions are 31.89″L x 18.1″W x 43.3″H but if you fold it, it'll reduce to 18.1″L x 18.1″W, transforming into a mini version that you can store or take with you everywhere. It doesn't even weigh that much, only 32 lbs, you can easily pick it up and move it. Or, you can just use the transportation wheels too.
Just like the previous bike, its X-shaped design gives it tremendous physical balance, this is why it can be lightweight but still manage to support 225 lbs of weight.
Its 3.3 lbs flywheel is well balanced and delivers the right amount of resistance for a smooth non-slip pedaling action. Keep on working out to lose your belly fat for extended hours as the anatomically designed seats are made for extra comfort. The padded handlebars also don't make your hands feel fatigued.
There is a small 2″x1″ LCD monitor that will display your speed, distance, and burnt calories. It can also provide you with your heart rate readings which it collects from the pulse sensors in the handlebars.
Pros:
Comfortable and wide seats
Silent belt drive
Stylish and eye-catching design
Best exercise bike for small space
Cons:
Only fits users between 4'10" to 5'10"
Can you really lose belly fat on an exercise bike?
Has it been a long time since you are trying to lose that extra belly fat from your belly but couldn't find a way? Are you wondering if an indoor exercise bike will assist you to reduce your weight?
You shouldn't be in the dark about this. Let me try to shed some light on this topic so you have a proper idea of how you can actually lose belly fat using your exercise bike. Indoor cycling will help you in the weight loss program because it goes with your natural movement.
In addition to that, it will also add more peace to your mental health. Because it is not something very hard to do so it would be easy for you to maintain consistency. Here I will try to explain to you how this stationary indoor exercise bike works in your body.
Whenever you are doing exercise or cycling it removes the extra fat from your lungs. Previously stored triglycerides in fat cells are also metabolized due to the movements. Hence, it will lose extra fat from your body.
The process of fat burning occurs when we inhale oxygen and it also removes the waste with the exhale of carbon dioxide. In short, this heavy breathing while cycling is the key player in the fat-burning process.
However, there is a more complex detailed process that will happen inside your body and this one is the most visible one to give you a surface and shallow idea in a simplistic way. Don't waste any more time, get into action and kick the pedal with full spirit to cut off those extra weird-looking fats.
How can you use an exercise bike to lose belly fat?
If you are serious about losing those extra fats you need to work out in ways that will not put much strain on your joints. To keep the muscle soreness within the limit you must know the proper way to use an exercise bike.
Depending on your overall fitness level and which bike you are using you can perform either sitting or standing, in some cases it might be both. An upright bike will help you to do excellent cardio sessions by increasing the strength of the core and leg muscles of your body.
While a recumbent bike is an optimum choice for people with back pain, hand or knee injuries, and limited mobility. You should pick that indoor stationary bike that has more safety options to work out with less intensity.
In addition to that, you can go for exercise with the optimum result for shredding your extra belly fat faster.
To hit your goal you need to build a habit of consistency in your workout session. You can make a routine in the morning or evening according to your free time.
If you have any injury, it's best to do a low-intensity steady-state workout in both sitting and standing positions. On the other hand, if you have no joint injury or back pain then you can do high-intensity workout sessions using your stationary bike. In both ways, you can shred some belly fat in the long run.
To make the whole indoor stationary biking workout session more productive and effective you need to challenge yourself. You can increase the resistance level by adjusting the knob.
And you will find sweat falling on the ground in a very short time making you crave to breathe. So, keep doing it in a delightful full mind by taking advantage of your indoor cycle.
Are exercise bikes good for losing weight?
Undoubtedly exercise bikes are tremendously helpful for losing weight for any young to old age people. You can lose plenty of calories using an exercise bike. Because it's quite convenient to do a high-intensity workout on a stationary bike.
According to some data, you can easily lose 500-600 calories per hour by exercising on an indoor bike. Some studies found that any adult person can decrease the level of bad cholesterol level and also triglycerides.
All you need to do is to follow a fat-cutting diet and consistent routine indoor cycling. But let me remind you one thing that shredding belly fat is not easy. You must keep the effort ongoing, or the result will be out of your sight.
Benefits of Exercise Bikes
Any workout you do in your life will benefit you in one way or another. Indoor cycling or biking is one of the safest of them. Here below I will talk about the benefits of indoor stationary bikes.
Physical Benefits
Cycling is one of the top-notch ways to make your heart pump. As it falls into the aerobic workout category you will be able to increase the strength of the heart, lungs, and other muscles. It increases the oxygen and flow of blood into your body.
You will get multiple benefits like lowering of high blood pressure, a balanced blood sugar level, lowering the probability of chronic heart disease, and energy.
The level of your calorie burning will be directly related to the level of calorie burning. If you can lose more calories than you are consuming, then obviously you will be able to cut some good amount of weight.
Whenever you are putting yourself into a high intensity cycling workout it will lose calories like a forest fire. Which ultimately helps to cut the extra fat that you are carrying for a long time. 45+ minutes and 3-4 times per week sessions will be great for your fat cutting goal.
An indoor stationary bike will help you to do workouts in such a way that will not create excessive pressure on your joints. These exercise bikes are best for those who have had any injury from any previous accident.
As you will be doing a workout at home so there will be no shaking, sudden breaking. Which will be less stressful for your ankle, knees, hips, and shoulder joints.
One of the most efficient ways to increase your leg muscles is cycling. By pedaling against the resistance, you can tone up your calf muscle, hamstring muscle, and front leg muscle like quadriceps.
If you can do your workout by standing position then it will also work on your glutes, core muscle, and glutes. Though cycling outside feels good but it comes with a cost. You may get into slippery roads, uneven tracks and face reckless drivers on the road which increases the chance of injury. But in the case of indoor cycling, you don't have those hazards so a comfortable and safe ride is an obvious one.
Though an indoor cycle stays on even ground you can give a close fill of hill riding or mountain riding. You just have to increase the resistance level on the flywheel as a result it would become very tough to pedal thus increasing your workout intensity.
When you feel fatigued you can reduce the resistance level and continue without much resistance. This is how you can shift your riding session according to your needs.
Mental Benefits
Any form of workout that engages you physically will also benefit you mentally as a bi-product. You will notice that an indoor morning cycling session will help you to deal with your regular task with more focus. Because a sweaty cycling session will increase the quality of your sleep.
Not only that, but you will also feel more confident and stress-free which will elevate your overall mood. Overall at the end of the day, you will feel the positive vibes of this workout in your daily life.
Now one question you might be thinking about is how a workout will lift my mood? Right? Okay, let me briefly explain to you. The basic thing behind this is that as you are achieving a new goal by increasing the workout time and intensity it will give you a sense of achievement in your life.
When you will notice that your weight is cutting off and ugly-looking belly fat is going away it will boost your confidence. You will be talking to yourself '' Man I am capable of doing Something ''. And trust me it will make you an optimistic person if you don't skip it.
How can you ride a Stationary Bike to lose Belly Fat?
As long as you have the willpower, and you have an exercise bike in your home it's just a matter of time and some effort to lose the saggy belly fat. Basically, it's all about calculation which is not very complex.
If you are a heavyweight person, then you will be able to lose more calories. And that also includes the efficient workout session and the overall speed.
You can start pedaling slowly and keep increasing your time and speed both times. Whenever you are starting your cycling session, increase the resistance level and keep doing it for the next 20-30 mins with a high-level intensity. You will notice it will increase your heart rate rapidly. It will lose a lot of calories in a short session.
Please keep in mind that if you have any physical injury and limitations then you must work out at a low-intensity level. Which will also be effective but will take a bit longer. But that's absolutely okay.
Your ultimate goal is achievable, which is to say farewell to your belly fat. Just hold on and keep going.
Bicycle exercise for belly fat
I will discuss here how you can make a proper routine for indoor bike exercise that will keep you on the right track. By following the routine, you can expect a flat belly within a few months. So let's not waste any more time and see the routine in the following
For Fresh Beginners
If you have never been into gym and physical workout stuff, then this routine will be suitable for you. You can start a 20-35 minutes workout session and keep leveling up from there. You can add more than 3-5 minutes per level up. Remember you need to make your own set number. I am trying to give you a precise idea about it. If you feel that you can do more then go for it.
So, the sample riding session would be like
Begin pedaling and do it for 5-10 minutes
Now increase the intensity of your session to a moderate level
Keep doing high-intensity cycling for 1-2 minutes
Then shift back to the moderate level intensity and do for another 5 minutes
Now repeat the first one
Now repeat the second one
When you start feeling fatigued keep the intensity low and do cycling for 5-7 minutes more.
For Interval Training Session
This one is for the pro level or those who already achieve a moderate level of fitness. For boosting your overall strength and elevating your stamina this training is indeed helpful.
So, below I am giving you a sample interval training session plan.
Start your session with pedaling at a lower intensity for 8-10 minutes.
Shift to moderate intensity for the next 10-12 minutes and add the below exercise.
3 minutes of high intensity
3 minutes of low intensity
3 minutes of high intensity
3 minutes of low intensity
3 minutes of high intensity
Then lower speed, resistance both. Continue low intensity for around 5 minutes and you are done.
Now let me tell you one more thing and that is if you feel like that you can do more than add an extra 1-2 minutes in each set.
For Weight Reduction
Losing weight is the main reason why most people get an exercise bike. You need a good program to know if you're properly doing it or not. Below, I will give you a workout plan which will not only lose calories but also fat. It's an excellent routine for those who need to achieve goals very fast.
So, here it is.
Start your cycling session and keep going on for the next 5-7 minutes.
Now shift your workout pattern to a moderate level and continue for another 4-5 minutes.
Now keep repeating the above two steps for the next 25-35 minutes.
Slow down and pedal at a low-intensity level for another 3-5 minutes.
Types of exercise bikes
In the market, you will get three types of exercise bikes, and these are upright bike, recumbent bike, and dual-action exercise bike. Each one functions differently so its benefits vary from each other.
My suggestion for you is that you should buy and use whichever suits your fitness level most. Let me try to give you a little idea about those exercise bikes.
Upright Exercise Bike
They are very common among the fitness community. More or less, everyone knows about this stationary bike. It's pretty much like a regular bicycle. It has the pedal fixed under your body position.
Upright bikes are awesome for a cardio workout. You can also build the strength of your leg muscle and core muscle. Moreover, you can ride this bike both in a standing position and sitting position.
The only problem with this bike is that the upright position is a bit harmful to you especially if you have any history of injury. Because the position itself will create pressure on your hands. And most of the time their seats are also not that comfortable.
A recumbent exercise bike is designed in a way that you can sit in a comfortable position. And the seat is reclined and the pedals are on the forward side of the seat.
This bike is less stressful for your body. You can be free from jin pain, low back pain, etc. Because of the construction design, you can perform your workout session at a low-intensity rate.
It's a great option for those people who have any physical limitations like hip injury, ankle pain or knee pain, etc. People who are old will find it convenient to use as it requires less effort to ride.
Dual Action Bike
The dual-action exercise bike has almost the same feature as an upright exercise bike. The only difference is that it comes with extra moving handlebars which you can use for arm movement. So basically, you can do a whole-body workout by both pedaling and moving your arms.
Usually, this exercise bike has a lock option for the handles. When you don't feel like using your hand you can lock it. It comes with fan wheels so it's convenient to pedal it. They also have the option of resistance level using that you can make your exercise session harder.
Tips for losing belly fat
If you have grown up, having a fat belly in your teen life is probably not a very good experience most probably. And it's also true that with age it usually gets bigger and bigger.
But if you want to cut off that fat from the belly by doing exercise then an exercise bike is the one you can start with.
So let me tell you some tips which will help you get a more fit, shredded, hard body.
Eat appropriately
Among all the tips this one is the key player without any doubt. You should remember that no matter how much you work out or exercise if you don't limit your food consumption then nothing will work.
You must avoid processed food which is mostly full of sugar and cheese. Those junk food and drinks will not help you if you want to lose belly fat.
A balanced protein diet will help you to lose belly fat faster than you imagine, obviously including the workout. Your target should be to lose fat but not lose any muscle mass. So proper fueling of your body by eating enough chicken and high vitamin foods is a must.
Carb cutting is also required to remove that gelatine-like belly fat. But that has a limit because you need a limited amount of carbohydrates to function properly. Long story short, eating those help build muscle mass and ignore those that invite the formation of the fat cell.
Maintain a steady pace
Cycling burns fat. Though it's not that hardcore exercise it's a form of aerobic exercise. If you keep your riding on a moderate level intensity, then surely your heartbeat might not get extremely high but you can continue for long hours.
As a result, you can lose a lot of calories which ultimately help to rip off that extra belly fat that has become a burden for you.
High-Intensity Interval Training
It is also another great thing you can blend in your riding session as we have talked about in the earlier part of this article.
It will increase your overall fitness quite faster than normal training, boost the testosterone level thus increasing the muscle mass, and finally chop out those soft cushiony thick layers of fat from your body.
Don't Stress Out
Try to take things easy. Life is all about up down and unknown challenges at the most uncertain moment. Just be confident and ignore the stress. Try to find out what are the factors behind your stress.
Point them out and now segment them according to your priority level. You would find some of these are not adding any value but adding stress so cut out those and some of them are part of your daily life so learn to deal with them.
One of the most negative things about stress is that in the case of some people they tend to eat more because of the stress. So it's a big no for a healthy lifestyle.
The less stress you take, the more productive you are.
Read books that give you motivation
To continue your training session, you need motivation. Sometimes you may feel monotonous because of the same routine and try to escape from that.
And to sort it out you can read books related to productivity, physical fitness to keep yourself highly motivated. Because without strong motivation it's very tough to continue anything for a long time.
Add more exercise / CrossFit
Don't keep yourself limited to riding an exercise bike. Add a bit of running and swimming to spice up your life from the boring regular day to keep yourself moving forward. Sometimes you can skip your riding session and replace it with those aerobic exercises.
If you don't have any injury, then you can do a little weightlifting exercise for both leg and arm to bring more variation. Which ultimately will help to reduce the extra fat from your pooch belly.
Don't ruin your sleep by using your phone
If you eat well, work out enough, and don't sleep adequately then your body will not be able to support you much in the long run. Because your body must recover from the post-exercise rest.
When you are going for your bed just keep your android or iPhone a bit far.
Once you enter the virtual and social world like Instagram, Facebook, WhatsApp, YouTube, etc you will spend more than one hour just like 2-5 minutes. Which will ultimately hamper your sleep and you will be less focused on the next day.
So, get enough sleep and beat those sticky fats out of your body with full energy.
Buying Guide
Stationary bikes are one of the best things to lose belly fat inside the home. They come in different shapes, sizes, and features.
Some features are very important for a high-quality exercise bike. So, in the following, I will explain them one by one so that you can buy the bike best for your budget and fitness.
Built Quality
Anything that has absolute robust build quality will be able to withstand and provide service for a longer time.
It must be strong because it will support you during a workout session. If the built quality is weak then there might be a chance of injury or unwanted circumstances.
A high-quality steel frame with thicker steel would be a must check before buying an exercise bike.
Stability
You need to look for three things that are a must for greater stability.
It must have a very wide footpad; the footpad has to be adjustable and a heavy flywheel. The combination of these three things is mostly responsible for the stability of an exercise bike.
High-Quality Resistance
If you purchase an exercise bike that is not challenging to ride at all because of less resistance installed in it, that won't be useful for you.
A strong and adjustable resistance system stationary bike will be able to make you tired and lose that extra calorie in every single session.
Comfort Level
It's not a very wise decision to compromise the level of comfort during your workout because it increases the chance of injury or physical pain in the long run.
A wide cushioned adjustable seat, easily reachable adjustable handlebar is most important. Because these two things will determine how comfortably you can ride an exercise bike.
Safety Measure
One of the crucial things before buying a bike is to check the safety level. Non-slip covered pedals, emergency brake system and covered flywheel are important.
The emergency brake will assist you to stop the moment you feel extreme fatigue. The non-slip-covered pedal will make sure that your feet are not getting out of the pedal during high-speed riding.
A covered flywheel will prevent your kid from any kind of injury as they are curious about any rolling wheel.
Types
As you already know there are 3 types of exercise bikes, and they are upright, recumbent, and dual action.
You should be aware of which bike would be most preferable for your body type and physical condition including earlier injury of hips, ankles, wrists, and other joints.
Foldable Bike
A foldable exercise bike will not demand a large space. It's indeed a prominent factor before buying one.
Because nowadays we live in concrete jungles and apartments are mostly small size. So it's a great advantage to purchase an indoor bike that is easily foldable.
LCD Monitor
Another must-have option for an exercise bike. It will help you to have a proper check on total calorie burning, distance coverage, speed level, heart rate. Overall, it's great for a precise calculation regularly.
Easy Transportation
It would be another pain if the indoor bike is not convenient to move from one corner to another.
A bike that has good quality transportation wheels will put less force on your body when you want to bring a design change in your room or apartment.
Frequently Asked Questions
Which is better for losing belly fat, running, or biking?
Both are beneficial for you because both will lose a good number of calories from your body. But biking is a bit safer than running because it puts less stress on your lower body.
Is 30 minutes of cycling a day enough?
A 30-minute cycling will add great value to your overall fitness. Even if you do in moderate space then a few weeks later you will have a smaller waistline than before.
Does cycling give you a flat stomach?
Cycling will be helpful to cut those extra powerful fat cells. But if you want a flat stomach you need to blend more things like CrossFit exercise and healthy eating patterns in your life.
Does an exercise bike build leg muscle?
Mostly you will be using your leg muscles during riding. Your quadriceps, hamstring, glute all will engage and tone up if you do cycle in both standing and sitting positions.
Is it bad to ride a stationary bike every day?
Too much use of stationary bikes can create stress on your knees and feet. So, it would be best to make a routine 3-4 times weekly.
Parting Words
There is nothing easier than using a bike for losing belly fat. You just sit and pedal as much as you can, out of all the alternatives, this is the best. Exercise bikes are one of the best pieces of equipment that you can have at home because they offer low-impact cardio workouts that tend to make you drop belly fat.
I hope that this article has been helpful to you as you search for the best exercise bike to lose belly fat. If there is any other information that we can provide, please contact us and let us know!